DEZE PAGINA IN HET NEDERLANDS?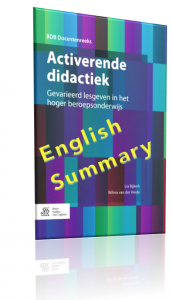 Free Downloads

Download the English summary of the book by bestselling authors Lia Bijkerk and Wilma van der Heide (2016) Activerende didactiek, Gevarieerd lesgeven in het hoger beroepsonderwijs [Active learning, a varied approach to teaching in higher vocational education].
We believe that this comprehensive summary makes a useful contribution to the improvement of the quality of lessons given in higher professional education. We hope that this summary will help you take on that challenge and translate theory into practice. With that, we hope that you enjoy teaching your own lessons as much as we do every day. If you would like to receive a Masterclass or an in-company training in Activating Didactics, feel free to contact us.
Drs. Lia Bijkerk (author) and ir. Titia van der Ploeg (trainer)
Spirited participants, spirited training programs, great results!
Especially designed for training and education professionals, facilitators and for those who otherwise work with groups:
X  Do you have trouble keeping up with, or implementing, new developments?
X  Do you experience reluctance when learning online, yourself or amongst your participants?
X  Do your participants show resistance and use up all your energy?
X Do you find it difficult to convince your colleagues or clients of your added value?
X  Do you hesitate to guarantee others that your training program or meetings will be successful?
X  Do you have your doubts about the use or effect of training?
You don't need to!
V With the right knowledge and skills, every professional trainer can help others to learn.
V  In a way that will make a lasting impression.
V In a way that it is valued and appreciated.
V For a fair compensation.
My mission is to help you, in particular with the IMPACT-method.
I help you get the best out of yourself and your participants with free tips and tools, practical sessions, Action Cards and training programs.
---
Do you work in an organisation?
As an employee, manager or trainer within an organization you've probably heard of the 70 – 20 – 10 rule. Learning in the workplace takes about 70%, learning during training only 10%. How can you learn from and with each other? Bureau 5 voor 9 helps…
Are you a trainer?
With a passion for your profession and do you think it is important to keep developing yourself? You'll find plenty of useful information on this website. Bureau 5 voor 9 is specialized in training and supporting trainers. We do this by providing free articles, products.
---
Bewaren
Bewaren