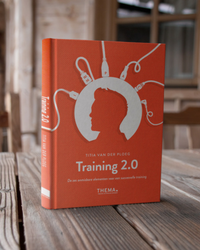 Just recently I have published my new book 'Training 2.0' in Dutch. It's about the didactical method to design your training in line with the newest insights in the functioning of the brain. With the six elements of IMPACT teachers and trainers will get the most succesful training for their participants.
For almost every group and training!
With many good practices!
Recommended (if you read Dutch)!
Action Cards
Action Cards are assignments designed for participants to get the best out of their training. As a trainer, you let your participants choose 3 to 5 different assignments. Because they are free to choose, they will be highly motivated to work on the assignment. The group members are allowed to choose the assignment they want, and they can also choose to do this assignment by themselves or together with other participants. Afterwards they share the outcomes with the other participants. The results will be amazing since all their talents are used. I've developed this toolkit together with Lia Bijkerk.
In the Dutch version there are 64 different action cards, divided into 3 types of assignments and 8 intelligences. Read more about the product in the flyer, which I am happy send by WeTransfer if you send me an e-mail at: titia@5voor9.com.
The toolbox Action Cards is not published in English yet. To get an impression and to give you the possibility to work with a few of the cards, you can download 10 Action Cards for free. Here you will find your download links. Enjoy!

Recently my book Mindmappen appeared, it helps you process and remember information more effectively. But you can also use this technique during training to the benefit of your participants.
Previous books I wrote discuss meeting skills, dialogues and creating corporate magazines.
Active Learning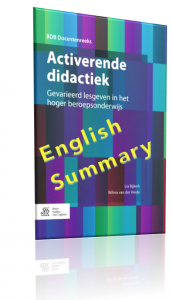 Download the English summary of the book by bestselling authors Lia Bijkerk and Wilma van der Heide (2016) Activerende didactiek, Gevarieerd lesgeven in het hoger beroepsonderwijs [Active learning, a varied approach to teaching in higher vocational education].
We believe that this comprehensive summary makes a useful contribution to the improvement of the quality of lessons given in higher professional education. We hope that this summary will help you take on that challenge and translate theory into practice. With that, we hope that you enjoy teaching your own lessons as much as we do every day. If you would like to receive a Masterclass or an in-company training in Activating Didactics, feel free to contact us.
Drs. Lia Bijkerk (author) and ir. Titia van der Ploeg (trainer)
Spirited participants, spirited training programs, great results!
Especially designed for training and education professionals, facilitators and for those who otherwise work with groups:
X  Do you have trouble keeping up with, or implementing, new developments?
X  Do you experience reluctance when learning online, yourself or amongst your participants?
X  Do your participants show resistance and use up all your energy?
X Do you find it difficult to convince your colleagues or clients of your added value?
X  Do you hesitate to guarantee others that your training program or meetings will be successful?
X  Do you have your doubts about the use or effect of training?
You don't need to!
V With the right knowledge and skills, every professional trainer can help others to learn.
V  In a way that will make a lasting impression.
V In a way that it is valued and appreciated.
V For a fair compensation.
My mission is to help you, in particular with the IMPACT-method.
I help you get the best out of yourself and your participants with free tips and tools, practical sessions, Action Cards and training programs.
Diverging Conversations through Facilitaton
You will find 24 cases that will help you if you're a facilitator, or if you're considering using a facilitator. In the clip below you'll get an impression about the how and the why. I've also written a chapter for this book.
Jan Lelie and Henri Haarmans (editors) have put together a very interesting number of practical cases combined with a number of clear theoretical essays on Facilitation. Well readable and very enlightening on the subject. A 'must read' for every facilitator and everyone who employs facilitators.
The preface written by Maureen Jenkins is used as a basis for this small illustrative video.
This chapter I wrote on facilitation: Everybody is different, so why do we treat our participants the same way?