Testimonials of participants
DEZE PAGINA IN HET NEDERLANDS?

Beneath you get an impression of the findings of clients and participants. The videotestimonials are in Dutch, translation will follow.
I would be happy to help you or your organisation as well. Please feel free to contact me if you need more information or if you are interested in a free strategy session.
Bas van Riet
✰ Founder & Matchmaker Dutch Training Professionals BV
I have seen Titia at work at her event 'Trainen met Toekomst' (Future for learning delivery/training), where she celebrated her 25th anniversary as a trainer/learning deliverer. I saw how she managed to activate a hundred training professionals during the whole day, and inspire them to get the best out of themselves.
She also has a strong vision about learning, which led to a beautiful product 'Actiekaarten' consisting of 64 different ready to use assignments for participants. Finally I like to work with her, because of her enthusiasm, quick thinking/understanding and her warm personality.
As Founder I'm proud that Titia is one of our Dutch Training Professionals.
Henri Haarmans
Facilitator | Trainer | Emergenetics en NLP coach | Chair IAF Netherlands
Titia is a very experienced trainer en facilitator. She uses the theory of multiple intelligences on a very high level. She is calm in her presentation and is a very beloved workshopleader on the yearly conference of the IAF Netherlands chapter.
Wytske Dijkstra
Learning delivery expert | Massagetherapist
An event, workshop or coaching session with Titia is always special. You always end up with new insights and energy to act upon them. She is an inspiring trainer and gets you out of the box in an open, friendly and stimulating way. I know because she was a great force behind a very successful symposium of the VWI network, a workshop about entrepreneurship for female engineers and already active as a trainer/coach since the late eighties. So if you got a chance of working with her, do not hesitate and jump. It's 5 to 9 and she is ready to go!
Inge Ville
Head to Boerhaave training, Leiden University Medical Center
Titia van der Ploeg is an excellent trainer. She is able to inspire any participant at any level in a training programme. I'd like to hire Titia van der Ploeg, because I know that if she's training the group it will become a perfect training programme. And I love to write professional books with Titia, because she's also a very good writer.
---
 Testimonials about the Mindmapping training
"Passionate, knowledgeable and cheerful trainer. Her involvement with the subject Mind Mapping inspires huge!"                                                                     – Willem-Jan Kuiper trainer and communication specialist
"The workshop offered a diversified program. In just a short time I got a complete picture of what mindmapping is and how I can use it. At various points in time during the workshop music was played, which was a pleasant surprise."                                                                                                                     – Nathalie van de Dobbelsteen, policy advisor primairy education at Nijmegen municipality
"In three words: clear, positive and useful. It is a good thing to address the importance of mindmapping to managers and superiors. I'm convinced that it offers many advantages if more people start using this technique."                                                                                                                                              – Carla Veltman-Leander, secretary at Nijmegen municipality
---
Laura Zschuschen, Nationale Nederlanden
About: Workshop Action Cards
As facilitator of workshops I like using the Action Cards, especially to put participants to work with the information they received. Instead of passing on information the traditional way with a powerpoint presentation I let the group work with the information in a way that suits them best. For example, developing a strategy, the concept for a new product, IT requirements, an organizational change. In fact, every topic is suitable.
---
---
Martine Vecht, Bien-etre
About: Action Cards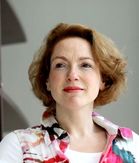 I use the Action Cards in many different ways: in circuits, individually or to give the participants various choices at the same time. At times I also use the complete deck or as inspiration to develop another working method. The ways in which you can use them vary and the results are often surprising, for the participants as well. Action Cards are easy to use, save time and have a broad applicability.
What I experience as especially powerful is that by using the action cards you repeat what is learned in a playful manner – I tend to offer too much material and repeat too little.
The cards are appealing and engaging, and using them saves you a lot of time in preparing a training. The accompanying workshop is highly recommended. I then realized the many possibilities and uses this material offers. Not just for starting trainers, but also for the more experienced trainers that want to further develop their motivational training skills.
---
Chantal van Arensbergen, Founder of 'Eigen regie in zorg en welzijn'
About: Action Cards
I have used the Action Cards for a training for a welfare institution. The cards were especially effective because the levels and functions of the participants differed greatly. Everyone chose his/her own assignment in which he/she could learn something new. The participants themselves were very surprised by the outcome! Venturing off the beaten track and clearing the head proved to be very refreshing and gave new perspectives. Even for the more experienced employees. It was a great experience for all. A few of the participants will use the cards with their own clients in situations where they have become stuck in a deadlock.
I can recommend it to every trainer/process counselor. It enriches the process as well as the result.
---
Heleen Brinkman, eigenaar Woman what's up?
About : Practice session
"Titia, I greatly appreciate you facilitated this meeting. I have come to know you as a warm, humorous, generous and expert trainer, moderator, learning delivery manager :). Hope to see you again!"
---
Gea Naaijkens-Jansen, Manager public affairs Wijchen Municipality
About: Workshop Mindfulness
A great introduction to mindfulness. A foundation with applicable exercises that I can put into practice. And I will start now!
---
Jolanda Buter, Trainer-Consultant at MDF-T&C
About: Workshop Mindfulness
Titia and her message are in balance. The clear examples and exercises she uses are consistent with my learning and the goal of the day. A solid ten for this workshop.
---
John van der Ster, , Black belt facilitator at Nationale Nederlanden
About: Workshop Mindfulness
It's remarkable how you can acquire, test and apply new knowledge in half a day. You learn quickly and the information stays with you because of the good approach in the workshop. I can get to work!
---
Sylvia Ras, Vitalitas
About: The Activating Trainer
---
Jolanda Winters, To Results
About: The Activating Trainer
http://youtu.be/EOn0HurSd2oHelma Stravers, Stravers Speech Coaching
About: The Activating trainer
---
Ellen Steffens, Nieuw Elan
About: The Enterprising Trainer
---
Liesbeth Neven, Hogeschool Utrecht
About: The Activating trainer
---
Judith de Bruijn
About: Personal success
---
Eveline Labots
About: The trainer as entrepreneur
---
Henri Haarmans
About: Workshop Action Cards
---
About: Workshop Action Cards
---