5 remedies tegen hand-outstress
"Je hoeft geen aantekeningen te maken hoor, je krijgt de hand-out na afloop van mijn presentatie". Direct nadat ik een spreker dit blijmoedig heb horen zeggen, krijg ik acute hand-outstress. Waarom mag ik ze niet nu al hebben? Ik ben iemand die graag aantekeningen maakt en wel het liefst bij de betreffende tekst of plaatjes. Zo maak ik me de informatie eigen en kan ik het beter onthouden.
En vanuit het breinleren weet ik dat ik daar niet uniek in ben: hoe meer je zelf participeert, hoe beter je leert.
Wat te doen? Volg deze 5 remedies tegen hand-outstress en laat je deelnemers beter leren.
1 Stimuleer ALTIJD deelnemers om aantekeningen te maken
Wat je ook doet, laat deelnemers altijd aantekeningen maken. Zeg regelmatig zinnen als: noteer deze zin of schrijf op wat voor jou belangrijk is etc. Het is uitermate belangrijk dat je deelnemers zelf aan de slag gaan.
Hebben je deelnemers geleerd om te mindmappen? Nog mooier! Ze kunnen dan sneller tot de kern komen en zullen naderhand ook merken minder tijd nodig te hebben voor het bestuderen van en terughalen van de informatie.
2 Wees duidelijk over je hand-out
Heb je een hand-out of niet? Meld dit direct.
Check: Moeten mensen iets leren? Zorg dan voor een hand-out
Bij sommige lezingen wil je mensen meenemen in je verhaal en is het niet de bedoeling dat ze alles letterlijk onthouden. Als je het goed doet, zet je mensen tijdens je lezing aan het werk door ze vragen te stellen of opdrachten te geven. Die vragen kun je als hand-out uitreiken. De liefhebber kan je presentatie downloaden na afloop.
3 Stel je hand-out beschikbaar. NU
Veel mensen vinden het net als ik prettig om een hand-out te hebben om informatie bij te schrijven of na te kunnen lezen. Geef dus vooral de hand-out van je presentatie aan het begin van je verhaal!
4 Zorg voor een digitale versie
Wees eerlijk, niet iedereen zit te wachten op meer papier. Ik heb regelmatig mensen in mijn groep die aantekeningen maken op de laptop of Ipad. Van een van hen kreeg ik de volgende tip: mail de pdf van de hand-out. Op een pdf kun je namelijk ook aantekeningen maken en hij heeft zo de informatie ook later bij de hand.
Op veel hogescholen kunnen studenten via black-board of een ander digitaal systeem voorafgaand aan een college presentaties bekijken. Zo kunnen ze zich goed voorbereiden of tijdens een les met de docent meekijken.
De keerzijde van dit soort presentaties is dat de aantekeningen los gemaakt moeten worden of erger nog, dat mensen het niet-verplichte college overslaan. Zeker als de presentatie meer lijkt op een boek (veel tekst, weinig beeld), wordt de verleiding groot.
5 Beperk uzelve
Je hebt vast veel te vertellen, maar doe iedereen een plezier en maak de hand-out niet te dik. Voor een hele dag een is een hand-out van 10 pagina's met 6 dia's echt wel genoeg!
En uiteraard is de informatie per dia ook beperkt. Kies liever een pakkend beeld dan 10 regels tekst.
Bonus: Hou het brein wakker
Een beetje stress is goed voor de mens. Het brein wil wel verrast worden en wakker blijven. In de hand-out laat je dus ook een aantal dia's weg. Zo blijft je verhaal spannend en kun je focussen op dat wat je wilt laten zien.
Nog belangrijker: zorg voor incomplete hand-outs: laat (delen van de) tekst 'wegvallen' op de hand-out. Zo dwing je je deelnemers om informatie die voor hen van belang is te noteren. Omdat in elk onderdeel van mijn training een toets- of toepassingsmoment zit, zijn ze gemotiveerd om aantekeningen te maken.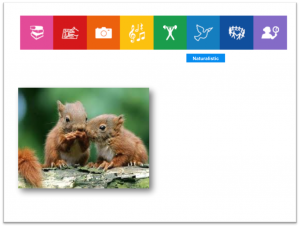 laat je deelnemers zelf de tekst erbij schrijven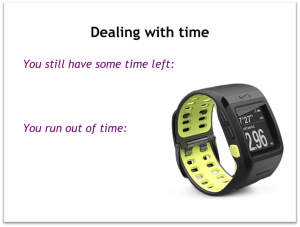 Je kunt ook tekstdelen laten wegvallen
Check: heb je weinig tekst en veel beeld gebruikt? Prima!
Want als je lange teksten laat overschrijven geef je je studenten geen werk maar strafwerk, en dat is natuurlijk ook niet de bedoeling.
Hoe ga jij om met hand-outs? Graag lees ik jouw ervaring in het commentaarveld hieronder.